Super Deluxe | Directed by Thiagarajan Kumararaja | Starring Vijay Sethupathi, Samantha Ruth Prabhu, Fahadh Faasil, Ramya Krishnan, Aswanth Ashokkumar
My Rating: 4 of 5 Stars
Imagine. Imagine the level of expectations a cinephile might have from a movie that, by its rave reviews, managed to drag her out of her comfort tongue to a place she hasn't been in over a decade. What fate might it have met when suspended under her magnifying glass, alongside familiar sweethearts and regular beneficiaries of her affection? A bright one, it appears.
Super Deluxe runs on that delicious narrative style that unspools parallel stories in myriad directions just so they all can be pulled back together into one common thread during the climax. And so, it goes – a wife invites her ex-lover home for some action while her husband is at work, not far away from this love nest is a dingy room where having bunked school, four boys are about to watch porn, and somewhere else, a father returns to his son and wife after absconding for 90 long months but doesn't fit the bill any more.
What happens next? Plenty!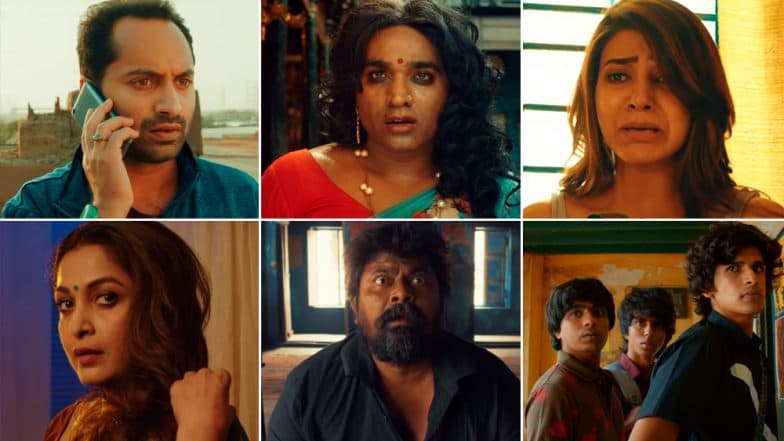 Over an intense, incisive and high-voltage capsule of acting, the plot expands like a fine batter of idli, prevailing over the mood of the movie with some very pertinent and not-at-all-fluffy questions. Themes of Gender Identity, Equality, Morality, Freedom, Human Dignity, Religion and Infidelity are explored with aplomb, making each of three stories stand on their own. One can guess that Kumararaja is a mad guy who not just acknowledges the extremities of life but also enjoys oscillating between them. So, his stories carry his trademark. They are powerful because they were fundamental. They are powerful because they are compromised. They are powerful because they attract humor. They are powerful because they are never dead. And when they all end up connecting to each other on a single day's lap, the closure becomes a thing to see and revel in because it kicks stereotypes and prioritizes humanity.
The lead actors have done remarkably well. Samantha and Fahadh were sparkly and substantial in their banter which was refreshing. Ramya does a believable job as a helpless mother. Even the school boys add spunk to their salivating avataars. But for me, the cake is taken away, many times over, by the emotive brilliance of the estranged father and son.
[SPOILER AHEAD]
From the moment little Raasakutty lays eyes on his father Manickam, who has now returned as a woman, Shilpa, the dynamics between them starts lighting up the screen. Vijay Sethupathi and Aswanth Ashokkumar become like mirrors – they could see exactly what the other was desiring and without a thought, would lunge forward to safeguard that desire. In a world that violates your basic right to exist and discriminates criminally on basis of gender, such disarming and unconditional love is warranted; it is the only antidote to the hate and phobia spreading into the depth of our bones.
[SPOILERS END]
Watch it for its fantastic narrative. Watch it for its fabulous acting. But above all, watch it for appreciating differences.
My next Tamil movie shall not wait for another decade I think 🙂