ENCANTO | Directed by Jared Bush, Byron Howard and Charise Castro Smith | Voices by Stephanie Beatriz, Maria Cecilia Botero, John Leguizamo
My Rating: 10 of 10 Stars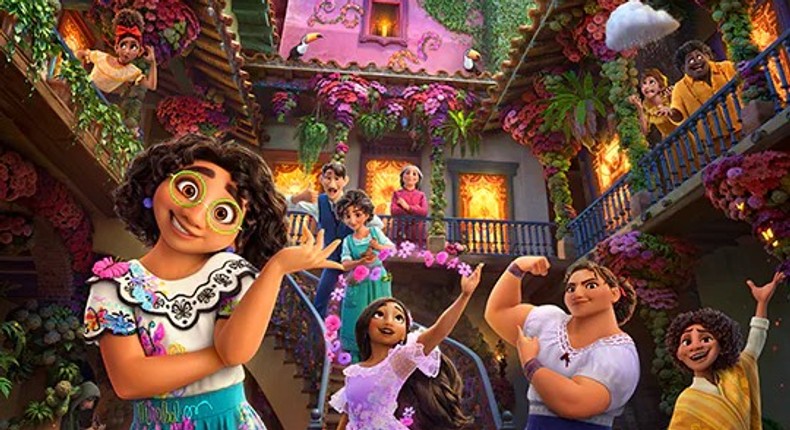 Encanto lives upto its name – it casts a mesmerizing spell that refuses to fade despite completing its defined run. There are so many sparkling dusts hidden in the vintage shelves and encrusted ceilings and twirling staircases and dancing mandala floors of the Casa de Madrigal that I cannot move from one room to the other or shift my gaze from one person to the other without getting a little sprinkle of them on me.
Mirabel, the young daughter of this joint family with a legacy of magical gifts, headed by her Abeula (grandmother), is the only one without one – a failure she wants to shed like a mad curse or avoid like a plague. But when one day, the very home she had sang in and raised a toast to, starts developing cracks and threatens to crumple down, she realizes she cannot be a mute spectator, despite her vanilla faculties.
What happens post that is what elevates this story to the heights from where all the good of this world becomes distinctly visible and appears in sharp focus.
In these fragmented and bewitching times, this story is a soaring song of unity, diversity, authenticity and acceptance. And even if I don't mention the stunning animation that is the hallmark of a Disney film and the dazzling colors and gorgeous, gorgeous eyes of Mirabel and the lilting music that is deep-rooted in the latin zing, I shall still have a truckload of love for Encanto and really lay calm and happy under its hypnotic charm for many more times hence.
Watch it and come out rediscovering the good, in others and you.